The XNUMX Cold Tea/Cold Tea Gift Campaign is now very popular! !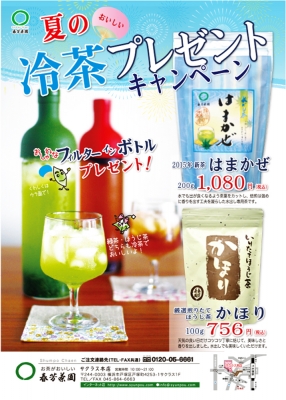 It will be taken home at the store, but it is very popular every year.
We are holding a summer water tea / cold tea gift campaign! !
On July XNUMXst, NHK "Try it Gatten"
It seems that there is also an introduction to the health ingredients that can be obtained from "cold tea"! !
Originally, Japanese tea has a history of being drunk as a medicine.
Drinking familiar Japanese tea with leaves is very good for your health and more economical than plastic bottles! !
Please take this opportunity to get a stylish and easy-to-use glass pot with a gift campaign.
Enjoy delicious Japanese tea even in summer! !
PS: The gift campaign will be a store plan.
In the case of shipping, it will be shipped for a shipping fee of XNUMX yen.
Regarding presents, we will accept one gift per case (house).
Thank you for your understanding.